Life takes different turns and sometimes you feel that you have to be perfect. You should not feel down with those imperfections in your appearance. A number of people are actually turning online for photo makeup and improving their collection of pictures. They use such online makeup tools to instantly get rid of those noticeable blemishes and imperfections in their photos. Such online makeup easily removes acne marks, spots, lines and dark circles from the photos. There are many such digital makeup features that PinkMirror provides to the users such as re-shaping of face, slimming of face, nose shaping, chin lifting, wider eyes, reducing wrinkles, highlighting and contouring, lip makeup, teeth whitening and more.
The Transformative Effect Of Highlight & Contouring Makeup
Many people don't realize that good makeup involves so much more than some mascara and lipstick. In fact, the products that other people don't notice are the ones that work the most magic on your appearance. Eyeliner and lip gloss might get all the glory, but contouring powder and highlighter work quietly in the background to define your features and sculpt your face. If you want to bring out your cheekbones or slim your nose, contouring makeup at PinkMirror can give you similar effects to plastic surgery without all the pain and expense.
Photo Retouch For Slim Face
The face slimming feature helps you to alter the proportions of the face that you want to enhance by trimmed look. Reducing the excess area on cheeks will make the face slimmer, better and sharper.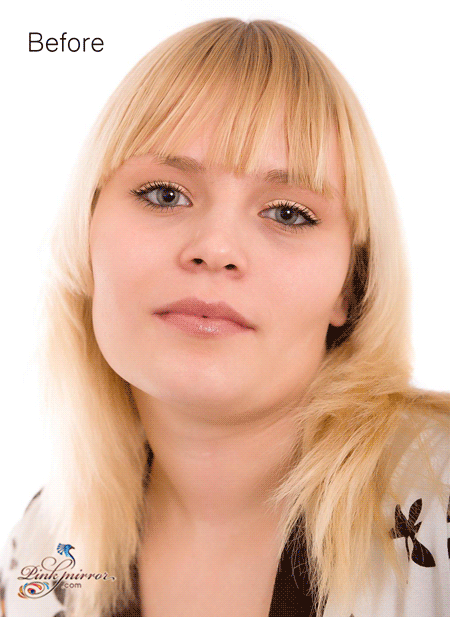 In this photo of an almost pretty lady, she have a square-shaped jaw. Square jaw signifies masculinity and thus it better suits a man rather than a woman. Hence PinkMirror reduced the size of the jaw, which will help to improve her feminine look.
Online Makeup Is Just Easy
Now, this really sounds exciting but you may wonder how you would apply such online makeover. It is quite simple. You just need to upload you photo which you want to make perfect at the website of PinkMirror. We promise you that what you will get at the end will be simply astonishing after we add makeup to your photos. Just take a look at the heavy dose of makeup retouches that you can apply on your photo with PinkMirror. It will not just help you to improve your facial appearance but also emphasize on your best features.
So, say goodbye to ageing and wrinkles and make use of our photo retouch software for the best online makeup