Make your ordinary photo extraordinary in 6 easy steps!
Do you have a lot of ordinary photos on your camera roll but nothing that is truly profile picture worthy? Maybe your social media needs a fresh update, or you have a job application, but how do you ensure that your photo gets you off to the right start? PinkMirror does just that in a very easy-to-use way that you can easily complete from your desktop, tablet, or phone. Remove blemishes and spots, erase and fix up any imperfections to take your photo to the next step!
Step 1: The Beginning!
This is the beginning of your personalized online makeover. Head over to Photo-Add-Page to start the journey to your photo masterpiece.
Step 2: Selecting your photo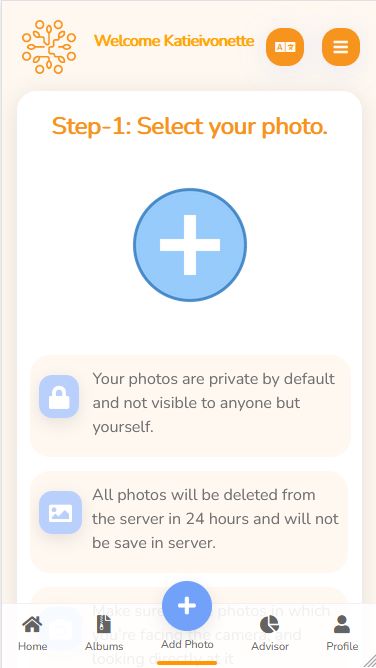 If your screen looks like this, simply click the large blue circle to select your photo from your photo album. Here you can pick your photo from your camera roll or files. For the best results, ensure that your photo is of you facing the camera where you are not too far or close. You are one step closer to achieving your makeover if you meet these simple requirements.
Step 3: Analyzing your face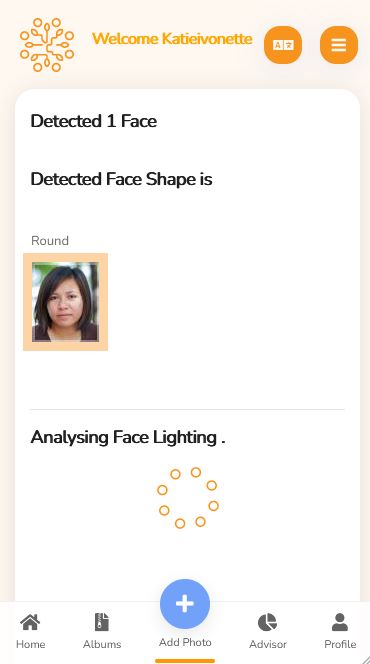 Once your photo is uploaded, our Artificial Intelligence system will get to work, analyzing every aspect of your face. It will assess where in the photo we can enhance your look and deliver something special for your profile picture. PinkMirror start with finding your face shape so that the right set of tools can be used for retouching the photo.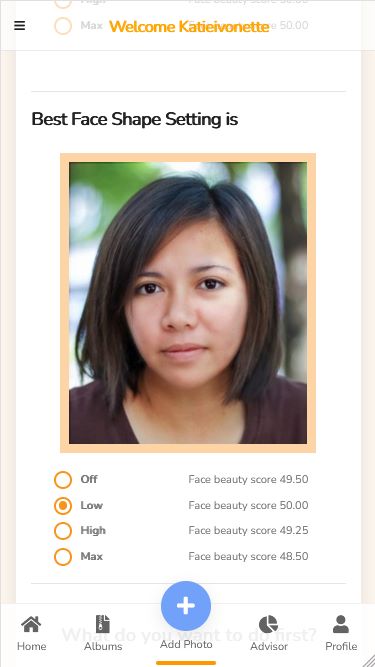 Our photo retouching engine can tweak your features for that perfect finish, but it does so naturally that avoids the artificial, mannequin look you see on many profiles these days. Our AI can adjust everything, including the shape of the face, lips, eyes, nose, chin, jawline, and even the lighting, to produce amazing results.
Think of our retouching as finding the best version of you, bringing out your natural beauty without losing who you are, a natural look that others will admire.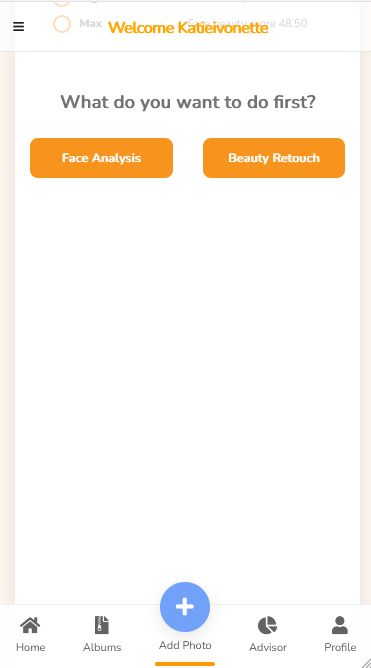 Once the face detection is completed, you will be presented with a question. Here you have to choose the "Beauty Retouch" button to continue.
Step 4: Your retouched photo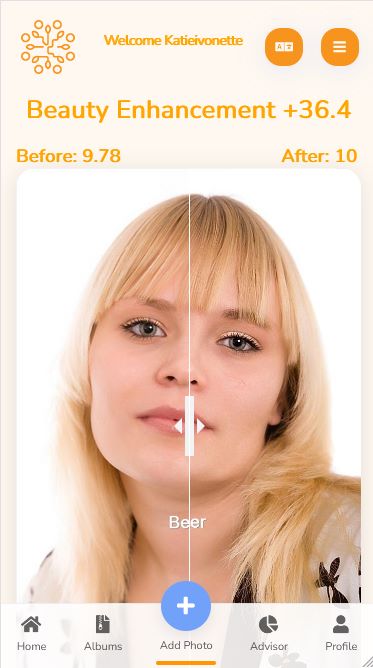 PinkMirror will do optimal retouching based on your gender, facial features, and age. You may have noticed a 3-digit number above your image. This corresponds to your beauty rating. This beauty rating is calculated through our artificial intelligence system, which considers all of your facial features. You will be able to notice the difference between the before and after image by clicking on the respective buttons to compare the results.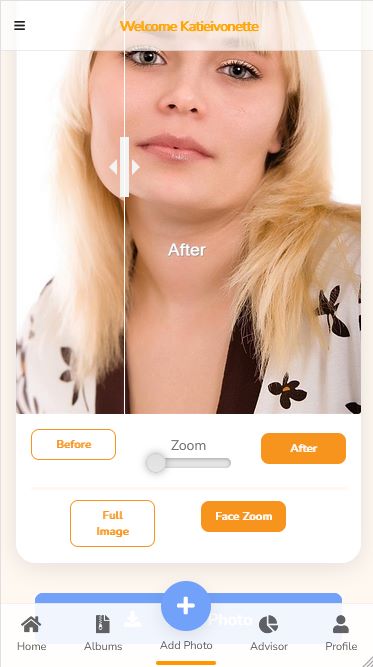 You can also drag the drag-arrows to make an easy comparison between the before and after image. You can also adjust the zoom of the image to either show a wider photo or a more zoomed-in image of your beautiful face by using the slider.
Step 5: Perfecting your photo to your own taste
If you think there is room for further improvement, then you can decide to retouch your photo again with different settings. You can choose between "Face Sculping" and "Image Retouching" options. Here you can access many specific tools to adjust your face, skin, and image. By clicking on the 'Face Sculping' tab, you can use different features available under "beauty control" which includes eyes, cheeks, nose, lips, teeth, and more. Using the "image retouching" options, you can adjust the contrast, color saturation, sharpness, background, noise, and more of your image to make it perfectly retouched.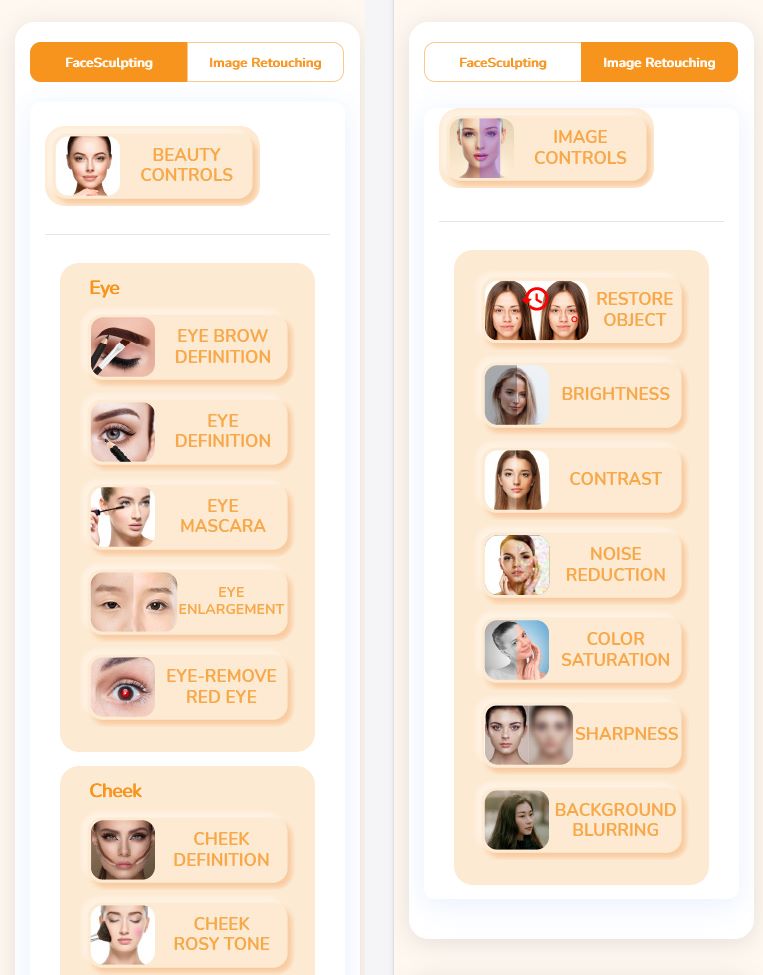 With a simple design of 4 options: OFF, LOW, HIGH, and MAX, you can easily adjust your photo to your taste with the simple touch of a button. You can find all available tools to tweak your photo and face in this link.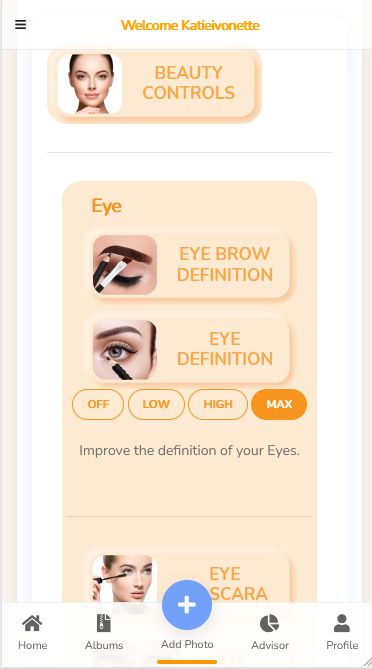 Step 6: Saving your retouched photo
Finally, you have the perfect photo. You found the perfect settings for the tweaks you wanted, and now you have a photo you love. By clicking the "Save Photo", your retouched photos can be downloaded to your device.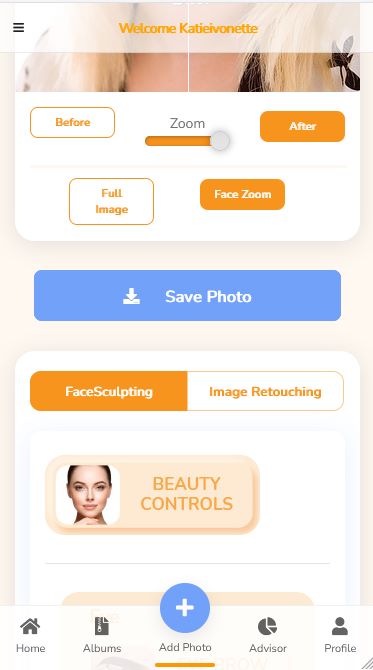 And that's it. You made it! You have successfully gone through a full digital makeover and taken your ordinary photo to a profile pic ready to be shared on your Insta or wherever necessary.
Tips: Retouching multiple faces in one picture
You can retouch multiple faces in a photo. You just need to select a face that is currently being retouched. You easily switch between the face you are currently retouching by clicking on the "tick" icon. The face being retouched will be marked as "Active Face".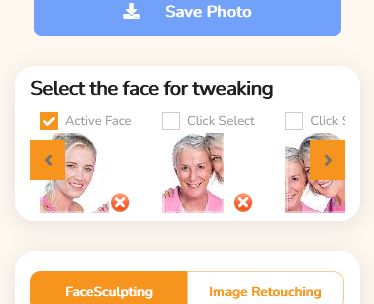 If you don't want to retouch a specific face, you can delete that face by clicking on the "x" icon. This will also ensure that all the filters applied to that particular face will be removed.
Tips: Removing Water Mark
To remove the water mark on the photo, please utilize the premium services.