Tweak your photos to look just the way that you would like them to look, so fresh and so appealing. Profile pictures and other photos you use don't have to be lesser quality. Instead, you can have great looking photos that show you at your very best every time with this easy to use photo tweaking toolset. PinkMirror provides all the settings you need, from boosting and optimizing levels to adjusting the white balance for a warmer feel, you can do it all.
Our easy to use tweak settings can be adjusted for strength, so everything is tweaked just as much as you need. Choose from the OFF, LOW, HIGH and MAX icons on the desired setting to set the level for that tweak. With Spot Removal, Red Eye Removal, Eye Brightening, Large Eyes, Face Lift, Nose Sharpening, Teeth Whitening, Rosy Face and more, you can get every aspect of your photo perfect, all in just a few clicks.
A Tweak Example
For instance, the Spot Removal settings in pinkmirror allows you to eradicate all the spots in the face captured in your photo, making it as smooth and supple as you can ever imagine. This feature and others come with the Off, Low, High and Max settings that allow you to alter the extent of changes that you want to implement on to your image. Changed the 'Spot Removal' setting from LOW to MAX.
Its easy to do to, for instance all you do is select the Face Slimming tool, choose a setting from the OFF, LOW, HIGH and MAX icons, and Pinkmirror does the rest!
With a simple design of 4 options: OFF, LOW, HIGH, and MAX, you can easily adjust your photo to your taste with the simple touch of a button.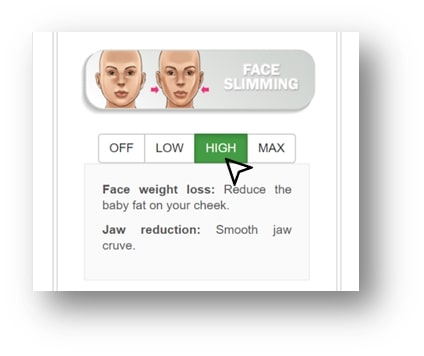 Retouching Tools
There are a huge number of retouch tools to choose from, including Spot Removal, Red Eye Removal to Eye Brightening, face sculpting features such as Large Eyes, Face Lift and Nose Shaper, along with color correction settings such as Face Brightening, Teeth Whitening and Rosy Face. Each one works the same way, select the tool, choose the LOW, HIGH or MAX level, and the system does the rest.
If you click on the tweak photo button you can have access to many specific tools to adjust your face, skin and image. Below are the available options: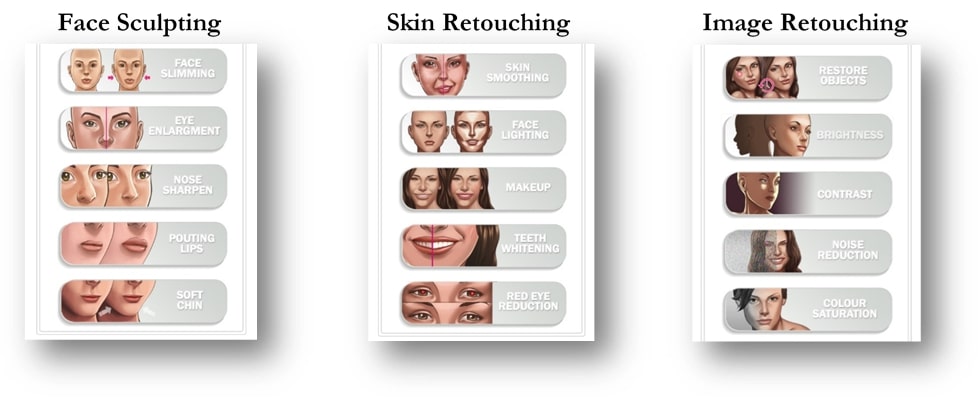 It is important to remember that depending on the gender and face type of the subject, not every tool will work well on every image. To get the best results then, carry out your tweaks one at a time, just click retouch again to add the next change. For instance, you way want to start with eye brightening and teeth whitening, then save that by clicking Retouch again with Changes, then go and add spot removal and red eye removal, then retouch with changes to save that part once you are happy. By working in stages like this, you don't have to start again should an effect not work as you wanted to.
After you have selected the necessary tweak on your photo, Pinkmirror will start processing the photo. The wait is usually a couple of seconds, but it can be longer depending on the type of tweaks you have done.
At this point, just be patient, our system is removing spots, adjusting lighting and all the other setting you opted for, and takes a little time for our AI technology to adjust everything perfectly for you. From adjusting color and brightness to sculpting your face, sharpening the nose or enlarging the eyes, there is a lot of work done behind the scenes to deliver the final result. It does all this quickly as you wait.
Its worth the little wait, as the end result will be a perfect photo for your profile, all ready to go because Pinkmirror does everything for you.