Bronze it up!
Round face? Think you need to go to a plastic surgeon to shed all that baby fat off? No fear! You can actually achieve the same result with just a few deft strokes of your make up brush. And it only takes a few minutes!
Achieve this desired illusion of a beautiful V jaw-line by contouring with bronzer. (I personally love M.A.C's Wonderwoman bronzer in Golden Lariat). Suck in your cheeks and sweep into the hollow in an angled up and down motion from your temples. Blend the remaining product in an E-shaped motion at the sides of your face, darkening the forehead edge, the cheek hollow and the bottom of your chin. And Behold! Contours have appeared on your once-round face, making you look enviably slimmer!
Fair girls, make sure that the shade of your bronzer is not too far from your original skin tone (atmost one/two tones darker) as it might look unnatural. But otherwise, have fun rocking this sun-kissed look!
Defined face? Start with a beautiful defined nose!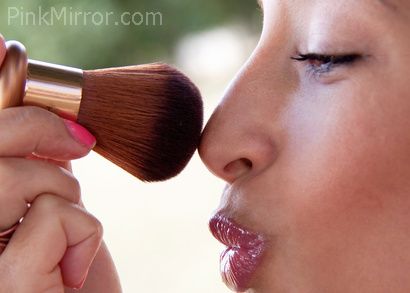 Your nose is at the centre of your face and as such commands attention as an important focal point. Many of us with round faces may also have flat noses and this contributes to the impression that your face has a lack of contours, making it appear even rounder.
With a defined nose however, the attention is drawn away from chubby cheeks and gives the illusion of a shapely defined face! Apply highlighter on your nose-bridge in a simple downward stroke. Do this with a light hand, especially for girls with oily skin as it may look greasy as the day progresses. Your nose looks instantly sharper!
To make the contrast even more obvious, use a darker tone of bronzer/foundation at the sides of the nose. Remember to blend well so that the effect is not harsh, but rather a flawless natural finish.
Get similar makeup effect in your portrait photos.