These days, cell phones, selfies, and social media make it more important than ever to take the best pictures. It's time to eliminate your insecurities and realize the beauty that lies inside; behind all of the factors making your pictures less beautiful than they could be. Our PinkMirror photo editor understands what you want, an amazing picture that shows who you are without blemishes, acne, stained teeth, wrinkles, or other unsightly features- because your appearance is important!
Masterfully and easily reshape your face in a picture
One favorite aspect about PinkMirror is how you can adjust practically any issue that you have with your face. Is your nose to long or too wide? Just touch it up!
PinkMirror's intelligent software will find which is the best beauty settings for your face and retouch it accordingly. But nothing is out of your control: modify your chin, your forehead, the shape of your face, and even how big your eyes are. It's complete control at the touch of a button!
With PinkMirror, you can reshape all of the parts of your face that you're unhappy with:
Cheeks: Working on your cheeks and neck are some of the most important parts of any picture. Maybe you've put on a little weight, or got a bad angle? PinkMirror's photo editor can fix that! Read more about face lifting in photos.
Nose: People often think that their nose is too big, or wide. In these situations, PinkMirror lets you adjust the tip, your nostrils, and even the shaft of your nose so that the perfect option is available for you. Read more about Nose shaping in photos.
Chin: Sculpt any irregularities out of your chin and get the shape that you want! A good chin shape helps define your face in future pictures, so it's important to make the most out of yours. Read more about Chin lifting in photos.
Eyes: If your eyes aren't big enough, or you think they're too close together/far apart, PinkMirror can help you adjust them! Read more about Eye shaping in photos.
Easily and Effortlessly Remove Red-Eye and Skin Blemishes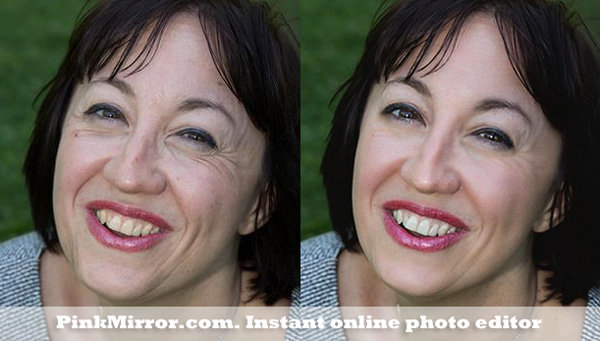 You can do practically anything with PinkMirror- including giving yourself a better skin tone, whitening your teeth and eyes, and making your skin glow with a healthy radiance that you deserve to get you more likes and comments on your Facebook pictures.
Our mobile cameras simply aren't designed to capture our natural beauty, and it's up to us to make ourselves look as put together as possible! The last thing that you want your friends and family to see are blemishes and lines that don't reflect who you are. And for that you need a natural photo editor like PinkMirror.
Take the guesswork out of brightening and toning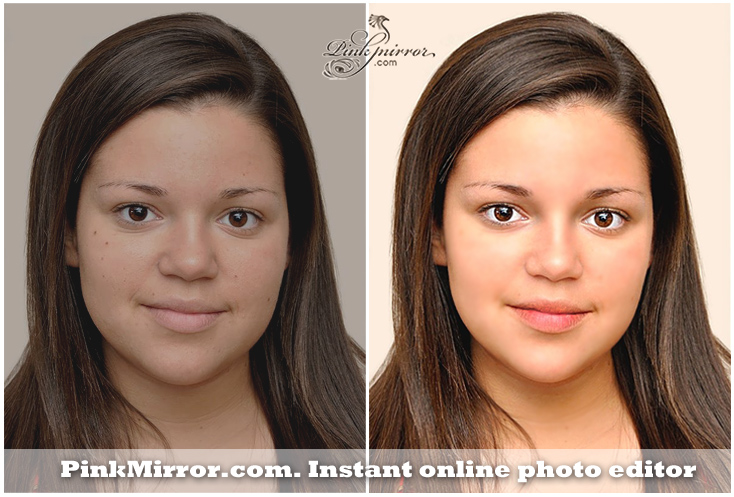 If the photo you took isn't naturally bright and colourful, you're not alone. It's nearly impossible for a camera phone to have well balanced contrast, brightness and colour saturation when you're taking pictures, but why should you upload them? Brightening and toning make your pictures up to five times more appealing instantly, without harsh filters that are extremely noticeable.
Find Out How Photogenic You Really Are
Isn't it about time you realized how beautiful and perfect you really are? Don't let blemishes, lines, or bad camera angles paint you in a bad light- use photo editor software that ensures that you always look your best and have the most amazing memories (through your photos) possible.
You'll absolutely love all the excellent, easy features for your photo editor needs that PinkMirror offers.