Are a few freckles or blemishes wreaking havoc on an otherwise beautiful picture of you? Everyone has those pesky little flaws that have a way of becoming a lot more noticeable in photos. Whether you're dealing with pimples, freckles, moles, scars, bumps, or other issues, PinkMirror's Spot Removal service can give your profile picture that flawless look you desire.
We've all seen photos that are obviously retouched and look unnatural. As you can see, our service removes your imperfections while maintaining your skin's natural appearance and texture. Your blemishes and other flaws will be replaced with healthy-looking skin that matches the rest of your complexion. No one will be able to tell the picture was retouched, and you'll still look exactly like yourself!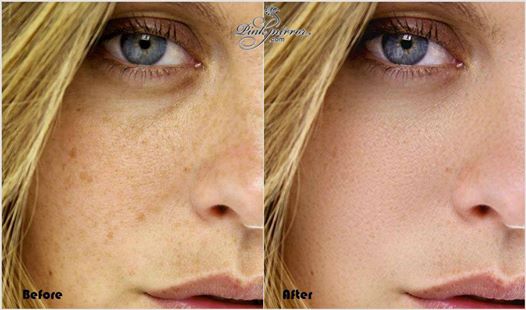 There is no reason to be stuck with a profile picture that doesn't completely flatter you. You want to look naturally beautiful in your photo and put your best face forward. PinkMirror can give you the perfect skin you've always wanted.
You can try it out for yourself right now by clicking on the "Retouch Now" button below. No registration is required, and our interface is easy to use. There really is no faster way to get an impeccable complexion, so try it out and kiss your flaws goodbye!