"Golden" Good Looks 
While many of Beyoncé's stage acts and albums have achieved record-breaking status (and rightfully so), the number of bloggers and beauty connoisseurs who have featured her in countless articles may even surpass her sales numbers. The undeniable "Beauty of Beyoncé" has long been a topic of conversation, and a surprisingly interesting one at that. While most of you have likely heard of 'the Golden Rule', the age-old concept of 'the Golden Ratio' is one that has been a feature of several discussions regarding the topic of B's stellar good looks. The idea of the Golden Ratio in regard to the human figure originated with Leonardo da Vinci, and his iconic drawing of the Vitruvian Man – which uses the mathematical principle of Phi to calculate various facial and bodily proportions to achieve an aesthetic "ideal". Though most notably utilized in a wide variety of famous paintings and architectural marvels of the European Enlightenment, the math behind it has been a topic of fascination and debate for many scholars, artists and architects for over 2,400 years. While Beyoncé's facial proportions may not achieve a perfect score according to the golden ratio (or 'divine proportion'), her incredible facial structure has placed her solidly near the top of the celebrity list at a very respectable 7.28, and an overall score of 9/10 using the facial proportion calculator at PinkMirror.com! It's quite rare for any celebrity to score below a 6 (with the majority of the general population falling somewhere between a 4 and a 5.5), and even heartthrob Brad Pitt is considered an extreme outlier at 9.67 (who can argue with that!?) with most Hollywood celebrities landing somewhere around a score of 7.  
Sir John's "Black Girl Magic" and the "Beauty of Beyoncé"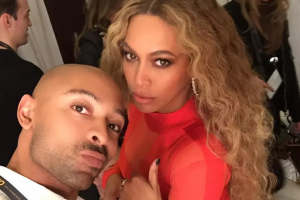 Beyoncé's exquisite facial proportions are far from the only aspect of her appearance that make her stand out from the crowd, however. The star's on-stage and everyday makeup practices have also inspired an endless array of YouTube tutorials and blog posts throughout the years, and her latest styles have been the basis for a number of beauty trends – and it's no surprise, given how accessible many of her favorite beauty products have been. The Queen B has turned to her personal beauty guru Sir John consistently throughout her climb to the pinnacle of Hollywood fame, and the infamously talented makeup artist has some seriously incredible (and admirably affordable!) tricks up his sleeves. According to several interviews, he often utilizes a number of drug store products during Beyoncé's time in the chair – including substituting frequently expensive brow gels with an Elmer's glue stick to hold B's perfectly groomed brows in place! An ambassador for L'Oréal Paris, the well-known drug store beauty brand with whom Beyoncé has partnered with since the age of 18, Sir John has been the superstar's beauty go-to for many years. According to a recent interview with Allure magazine, his primary focus is a flawless complexion – a feature for which Bey has always stood out. He employs a number of L'Oréal products, including their concealer palette, and several items from their True Match Lumi line when creating her latest looks. Purportedly, Mrs. B prefers to keep things minimal when it comes to eyeshadow – often skipping it altogether – and instead likes to draw focus with glowing skin, bold lips, and impeccable brows. Despite having 2016's InStyle Magazine's 'Makeup Artist of the Year' in her entourage, Beyoncé often takes up the brushes and mascara wands herself, and claims doing her own makeup before stage performances helps her get in touch with her alter ego – Sasha Fierce – to strut onstage and captivate her audiences. Even her after-hours beauty regimen is kept as clean and simple as possible, and her Holy-Grail product? Topping off her nighttime skin care routine with a generous layer of Aquaphor! Who could have imagined this common drugstore product to be the secret to the flawless skin and luminous glow Beyoncé is so wildly famous for?her  appearance that make her stand out from the crowd, however. The star's on-stage
Keep It Clean, Ladies!
It's never been much of a secret that clean eating is also a fantastic way to bump up one's beauty regimen, and the sultry songstress is also a big ambassador for going vegan – which anyone who follows her Instagram page is surely familiar with. Lady B frequently shares colorful photos of tasty, blended soups and dishes packed full with a variety of crunchy nuts, beautiful berries and crisp veggies. While she seems to have found the perfect diet to keep her both feeling and looking healthy and vibrant, her relationship with food hasn't always been ideal – having been well-known for promoting the highly controversial Master Cleanse, which restricts food entirely – while prepping for her role in Dreamgirls. It's a good thing the singer changed her tune, having admitted to Oprah that it made her "feel grouchy", and who could blame her? After going through that, most of us would be ready for a delicious lettuce wrap – or five! Still, she's just as down to Earth with her diet as she is with most things, allowing herself one meal every Sunday to eat whatever she feels like – as the saying goes, "Everything in moderation" (and don't forget, "Variety is the spice of life!").
Fit Family Fun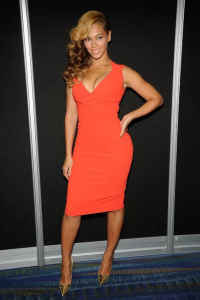 While a healthy plant-based diet certainly helps keep those killer curves in tip-top shape, her fitness routine is nothing to scoff at either. A physique as fierce as Beyoncé's takes time – and effort – and she's no stranger to working hard to stay in shape. In addition to up to nine hours of dance practice a day (often in heels, no less!), she spends time three to five days a week doing circuit and interval training – and regularly includes yoga sessions in her routine. With a workout regimen like that, it's easy to see how she keeps her Venusian form. While many of us would kill to have Bey's figure, she often attributes her success to her mental fortitude, as much as to physical strength – having stressed that, "It's about being healthy, and making the right choices." Since recently giving birth to twins (Rumi and Sir, with eldest daughter Blue Ivy Carter born in January 2012), she's been easing back into her workouts and including her family in the process as much as possible.
"Beychella"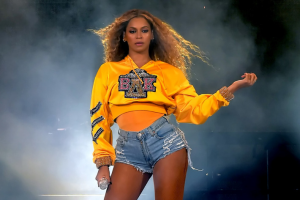 "Queen Bey" took center stage this April at Coachella 2018, after  having to reschedule her 2017 performance due to her pregnancy. The highly anticipated performance featured fellow performers hubby Jay-Z, a dance-off with B's younger sister Solange, and a surprise reunion with sisters in song Kelly Rowland and Michelle Williams, of Destiny's Child.  The internet has been ablaze with commentary and praise from fans around the globe since the first set of the epic performance began.
Beloved Bey the Queen
Beyoncé's success in the music industry, with an incredible 62 Grammy nominations and 22 Awards, is far from her only claim to fame. She's been nominated as Best Actress of the Year for her stand-out role in Dreamgirls, and is well known for her endorsements with brands like Pepsi, H&M, American Express, L'Oréal and NintendoDS. She's partnered up with top designers Tommy Hilfiger and Giorgio Armani for several of their signature perfumes, before coming out with her own best-selling fragrance brand – currently the world's best-selling line of celebrity fragrances. Mrs. Knowles-Carter has also launched several lines of clothing and footwear over the years, and has been working hard to include herself among the long list of philanthropic celebrities with her contributions and efforts towards hurricane relief and rebuilding Haiti, along with a litany of other campaigns and endeavors.
Take No Prisoners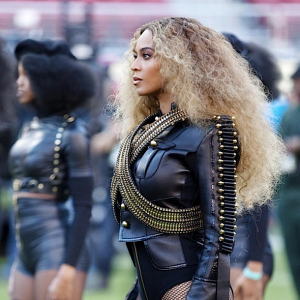 Beyoncé's beliefs and values have been a frequent topic of conversation throughout her many years under the limelight. She's been a staunch supporter of LGBTQ and transgender rights, and has always flaunted herself strong modern feminist activist. She fervently stood behind Hillary Clinton's candidacy for President of the United States, even headlining her pre-election speech with backup dancers sporting pantsuits and "I'm With Her" tees. The internet and television alike were abuzz with controversy following the debut of her song "Freedom" and her subsequent 2016 Superbowl performance– which were viewed by many to be anti-police and believed to promote the ideology of the radical anti-racist group known as The Black Panthers. A fierce promoter of the "Black Girl Magic" movement, Mama Bey clarified her stance by stating, "I am against police brutality and injustice. Those are two separate things. If celebrating my roots and culture during Black History Month made anyone uncomfortable, those feelings were there long before a video and long before me". Regardless of what one thinks or feels, the fact that she's so adamant in her beliefs and lacks no courage whatsoever in standing up for them deserves a certain level of respect and admiration – And there's no arguing that she's a powerhouse in every aspect!
There's no doubt in my mind that Mrs. Beyoncé Knowles-Carter is here to stay, and in it for the long-haul. With such a litany of achievements trailing behind her impressive stiletto-clad heels, there is certainly much more in store for fans and followers alike to look forward to. So let's all raise our champagne glasses and make a toast to the glamourous Queen B – as we eagerly await her next steps in life – and down the star-studded Hollywood Walk-of-Fame.
Golden Proportions: Why Are Some Faces Worthy Of A Second Look?
Analysis for Face Attractiveness: What Are the Scoring Ranges and Factors?