7 easy makeup techniques to make your face thinner.
Makeup, when done creatively, has the potential to make you appear thinner than you are. While this is admittedly a cosmetic and temporary measure, it does wonders to your self-esteem and can motivate you to make efforts to really lose weight and facial fat.
It's just a matter of paying attention to the best features of your face and accentuating them. Here are 7 simple and easy makeup techniques you can apply right away to make your face appear slimmer.
1. Use blush creatively.
2. Contour your face to bring out the best.
3. Highlight your face to focus on the right features and hide facial fat.
4. Let them look at your eyes
5. Create a vertical accent with arched eyebrows.
6. Conceal dark circles below your eyes.
7. Use a lighter lip colour.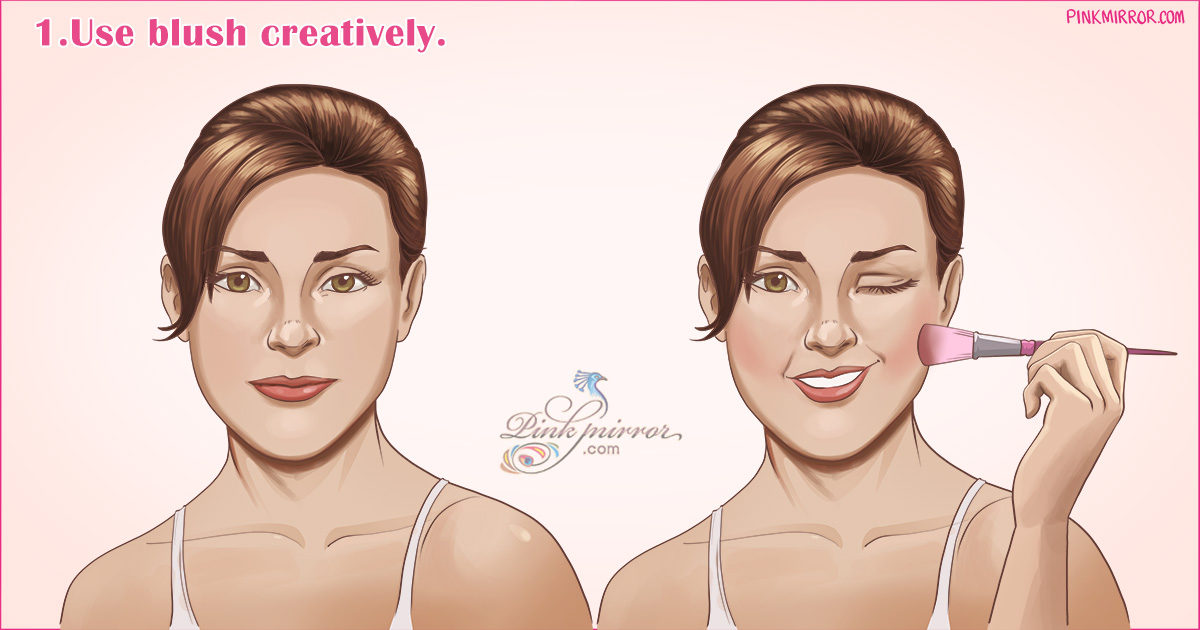 Choose a shade of blush that is darker than your skin tone and apply it on your cheekbones. This will make them appear prominent. Using a blending brush, blend the blush colour with your skin by applying even strokes away from the centre of your face towards your ears. The intention is to create the impression of well-sculpted cheekbones. With practice, you can transform your face in just a matter of minutes, using the right colour of blush.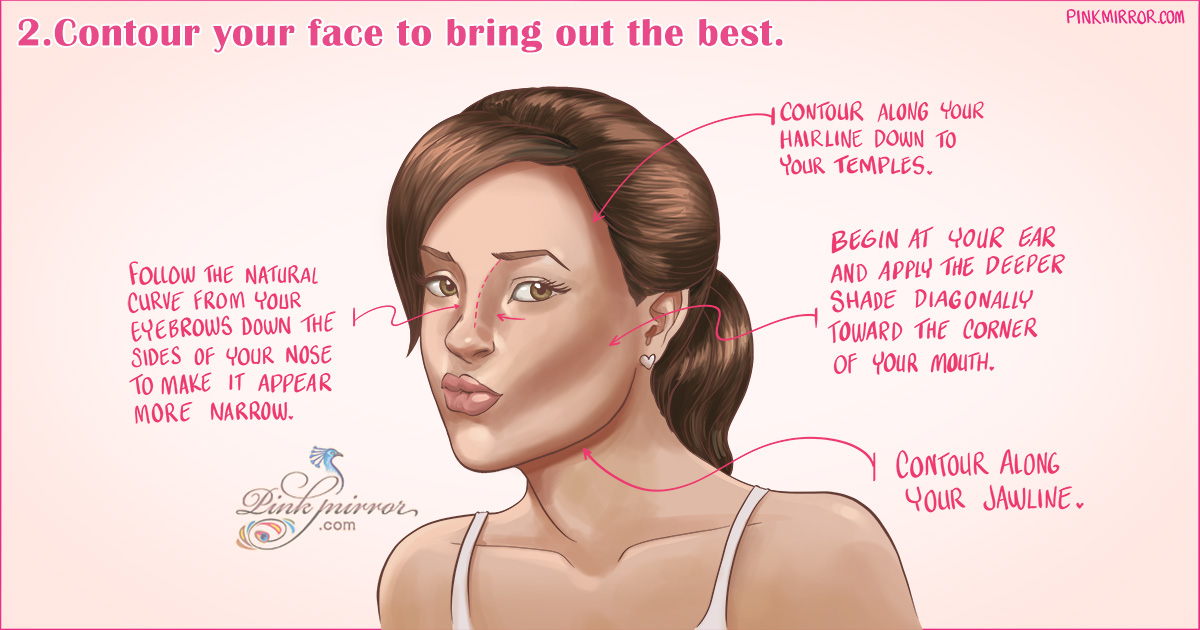 When you look at a painting, even though you know it is a flat canvas, you can see contours which create the illusion of three dimensions. Consider your face as a canvas and use makeup to artistically bring to the fore the features you want.
Identify a contour colour or matte bronzer that is a shade or two deeper than your skin tone. As in a painting, dark colours recede while lighter colours bring the features to prominence. Use this concept to subdue the parts of your face you want to conceal ie facial fat and bring out the best of your facial features.
You may use either cream or powder formula depending on which suits your skin. Use a makeup brush to apply bronzer or contour colour to define your jawline, along the sides of your nose to accentuate it and diagonally along the cheeks to create a hollow effect. Blend the colours seamlessly. Apply a combination of blush and bronze to recreate the face you want.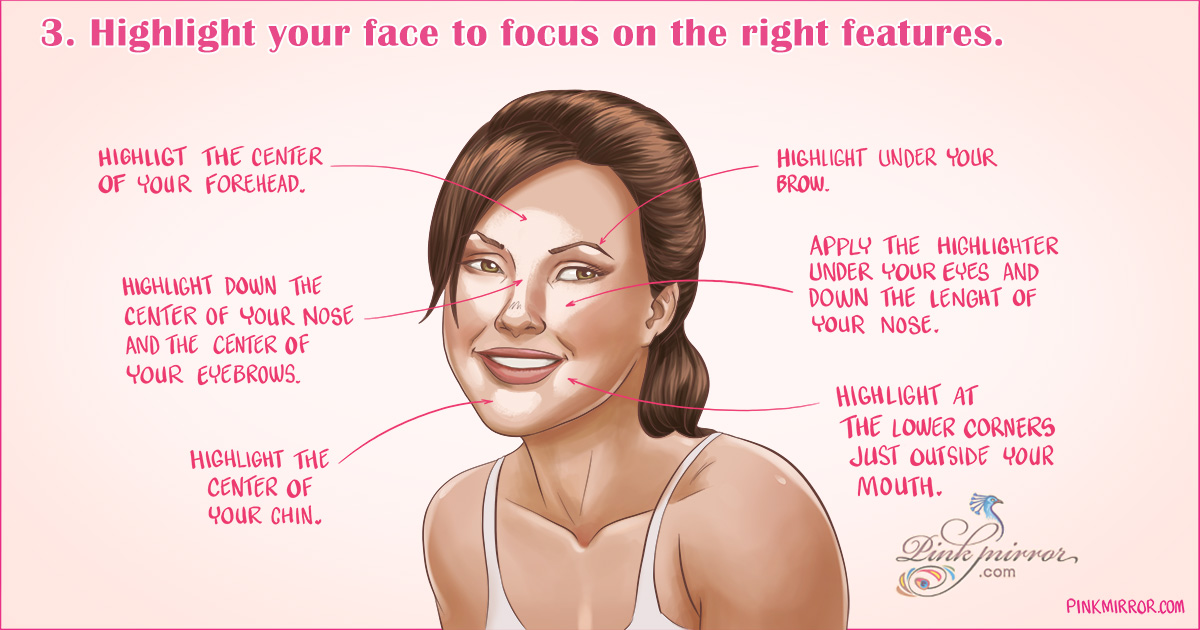 Use the effects of light and shade to make your face appear slimmer and hide facial fat. Apply a luminous highlighter that is a shade or two lighter than your skin tone to the centre of your face. This will enhance the facial features you want to get noticed such as the bridge of your nose, the brow, the top of your cheeks, above your chin and so on.
Use the highlighter to subtly create points of focus at the centre of your brow, below your eyes, the cupid's bow above your upper lip, the corners of your lips and the centre of your chin. Use a blending brush or a damp beauty blender to carefully blend the highlighted areas with the rest of your face to create a seamless look.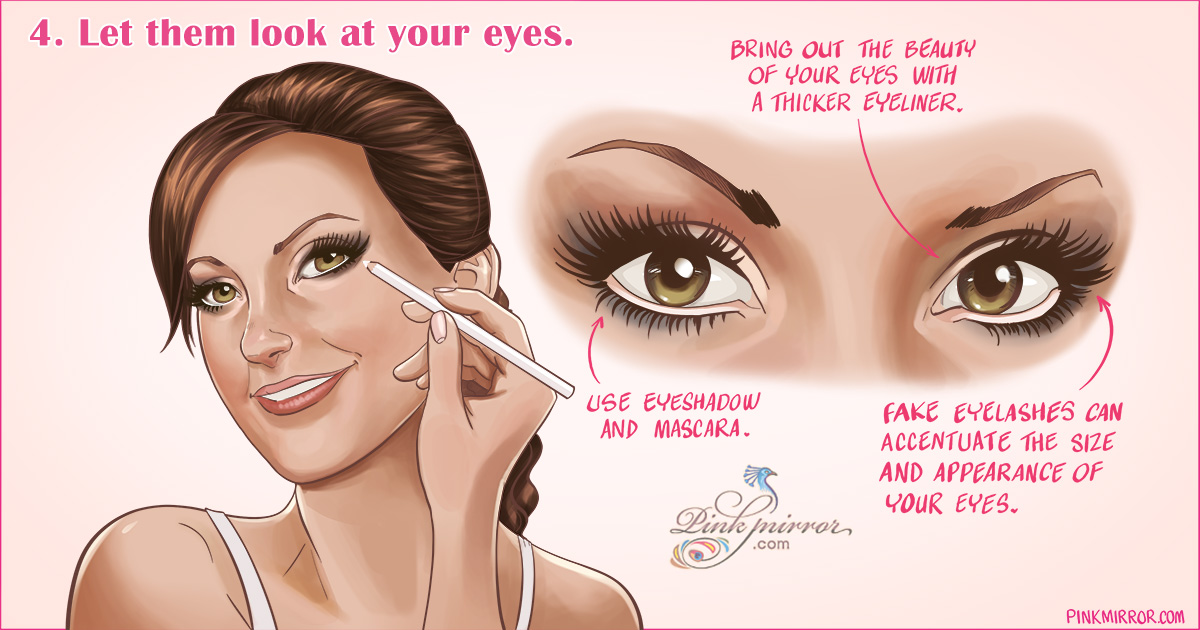 Just as a fuller and brighter lipstick shade can emphasize the fullness of your face, making your eyes appear bigger can in turn make your face look smaller than it is. So make it a point to bring out the beauty of those eyes with a thicker eyeliner, eye shadow and mascara. Adding fake eyelashes can also accentuate the size and appearance of your eyes. Complement the effect by downplaying your lips using a subtle shade or apply lip balm or gloss or just leave it natural.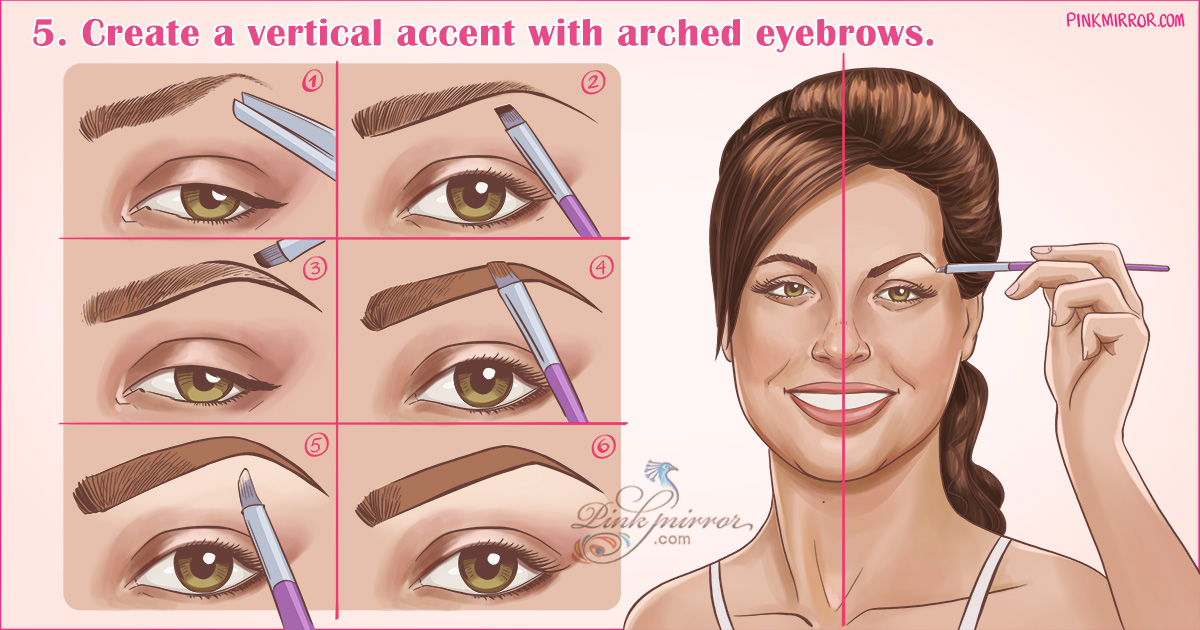 Pronounce the arch of your eyebrows to draw attention to the top of your face and create an illusion of vertically stretching your facial features. Use an eyebrow pencil to outline your eyebrows and create an arch that appears natural yet noticeable. Use eye shadow to complement the arched effect and create a contour along your brow. Complete the effect by using a spoolie or brow brush to seamlessly blend the makeup and make it seem natural.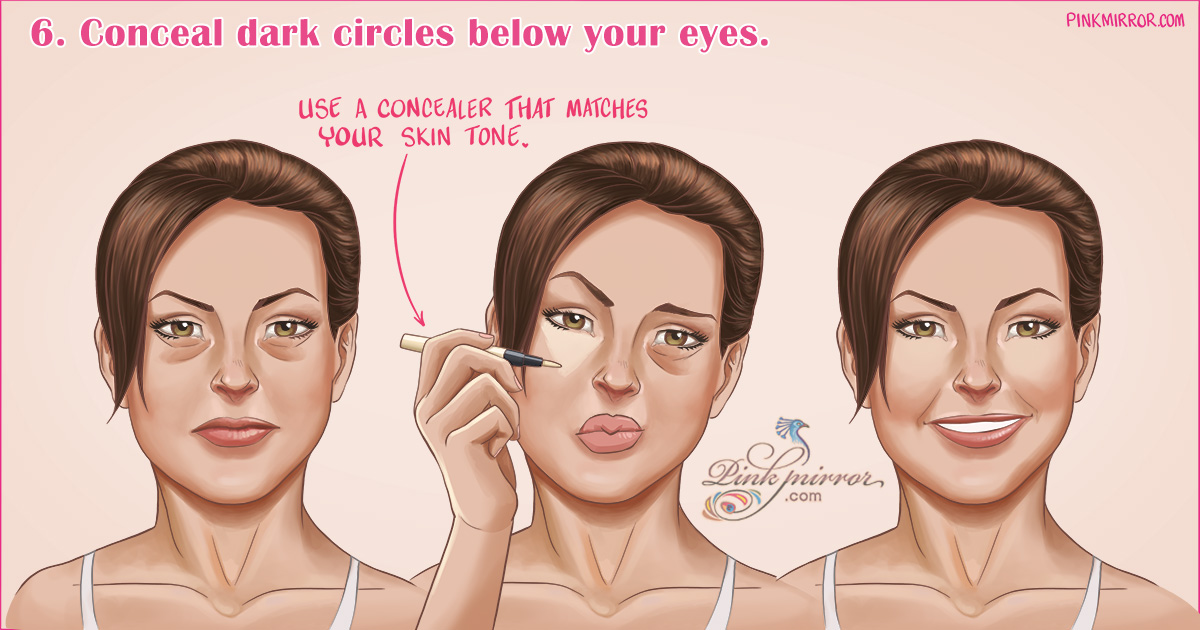 Despite your best precautions, sometimes stress, fatigue or less sleep can cause dark circles under your eyes. They tend to make your face look puffed up and haggard. Take years and pounds off your face by covering them up cleverly using a concealer that matches your skin tone.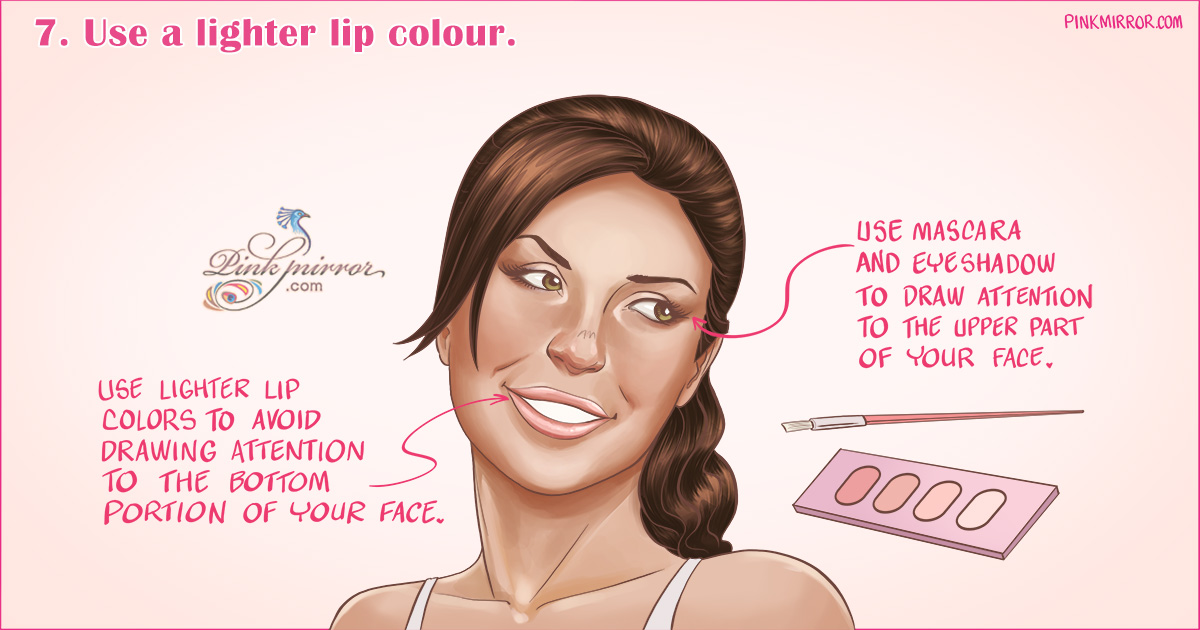 Dark lipstick colours make your face appear fuller and rounder because it draws attention to the bottom portion of your face. Experiment with different lighter and paler shades of lipstick colours to find ones that make your face appear slimmer. Complement the use of a lighter lip colour with mascara and eyeshadow to draw attention to the upper part of your face. Together they give the impression of a narrower shape to your face.