Beautiful sculptured cheekbones are often the most defining feature of a slim face. Cheat your way to killer cheekbones by highlighting them so that they hit the light in the most flattering way possible. The secret? Shimmer, shimmer and more shimmer!
Use highlighters (no, we don't mean the ones you use at school) which brighten up skin in an instant; these can be anything from commercial highlighters like e.l.f's Shimmer Palette or just a simple white eyeliner pencil or eye shadow. The key here is to apply these glistening products to places where light naturally hits your face: such as your cheekbones or nose (See tip #3). This will make your round face appear more sharp and shapely.
If your cheekbones are seemingly non-existent, feel your face for the hard bone close to your eyes and apply highlighter parallel to the cheek hollow or bronzer strokes (See tip #1). A subtle stroke is best and your friends will start proclaiming their envy for your naturally gorgeous cheekbones!
Let's get back to the Foundation
For women who aspire to have glowingly white and fair skin, this make up tip might be a tad tricky. Foundation is the building block of a flawless finish and finding the right shade for your own unique skin tone is an eternal search for many women.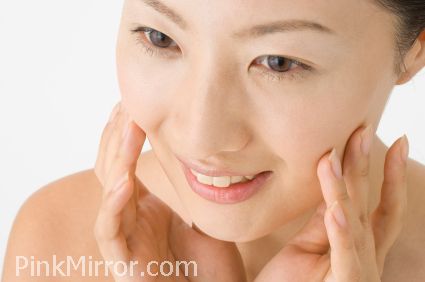 Using a slightly darker foundation however, may actually be the key to a slimmer face! This works on the theory that darker colours slim! (Remember that slimming Little Black Dress?) So, after concealing your flaws and blemishes with a concealer, choose a dark foundation that is about two to three shades darker than your original skintone. Make sure that the foundation matches with your skin's basic undertone (cool or warm) so that your skin looks fresh and golden instead of dirty. Also, remember to blend well with the neckline.
Now, enjoy your status as the golden 'It' girl with your beautiful slimmer face!
Get similar makeup effect in your portrait photos.