Women always want their eyes to look bigger and this is so because big eyes are associated with youthfulness and alertness. Although all are born without big eyes, all women can make their eyes look big and the trick is to use good makeup. Here are a couple of ways to get the look you're after.
---
2. Get rid of dark circle under your eyes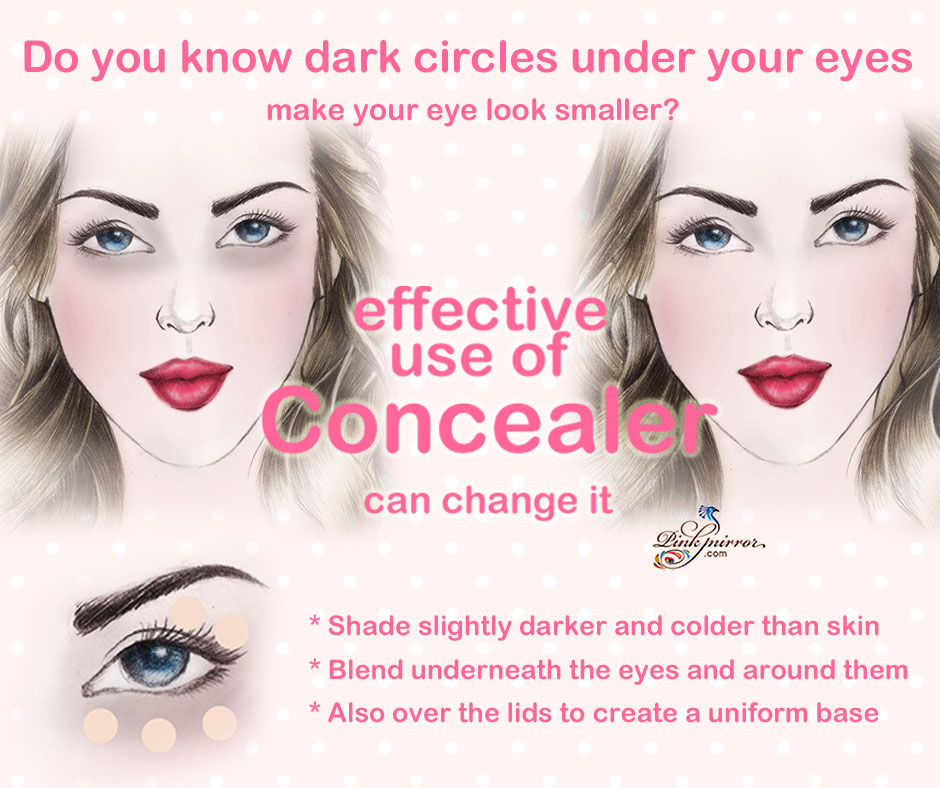 Your eyes look smaller with dark circles. Applying right concealer not only even out your skin tone but also illuminate the entire eye area and draw attention to darker lashes. In order to brighten and correct blue or purple tones, you should chose a shade which is slightly lighter and warmer than your skin. Also, concealer should be blended underneath the eyes and around them, as well as over the lids to create a uniform base.
2. Define your eyebrows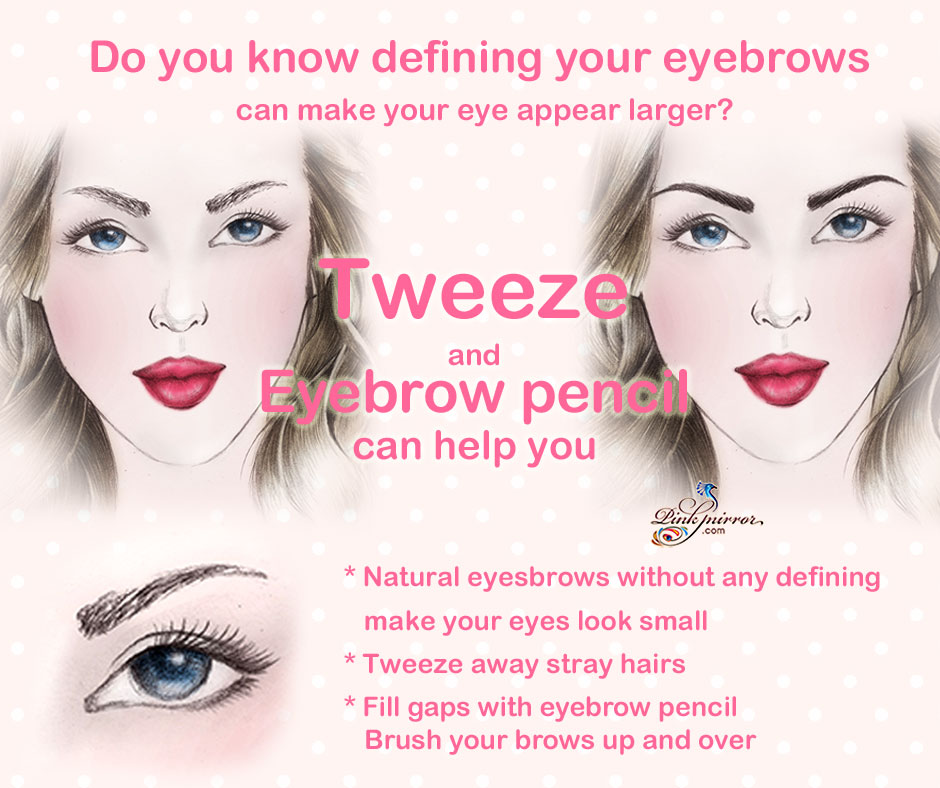 The brows are part of the eye feature in a sense. Anything accentuating the eyes is going to make them appear larger. Manicured brows could amazingly light up the face and create a flattering frame for the eyes. Therefore you should tweeze away stray hairs in areas above and below brows. If you are afraid of over-tweezing or unsure of the right shape, visit an expert. Then fill any gaps with an eyebrow pencil. Finally, to get clean defined shape, brush your brows up and over with a spoolie.
3. Add dimension to your crease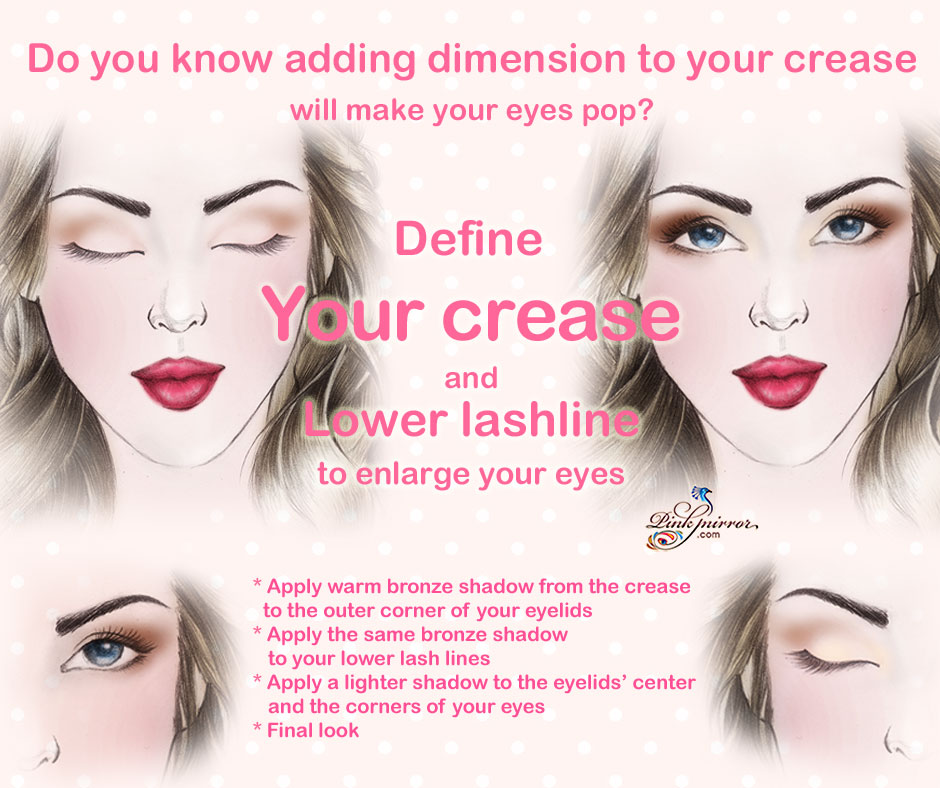 You can give depth to your eyes, make them pop by defining your crease and lower lash line. To begin, use a large, soft brush, start in the middle of your crease and sweep the color out to the outer corner of your eyelid. A warm bronze shadow is usually a good choice. Keep in mind that in this step, everything does not need to be neat or perfect. Next, use a smaller brush to lightly dust a touch of the same shadow to your lower lash lines. It will add some subtle definition under your eyes. The last step is applying a lighter shadow to the center of your eyelid and the corners of your eyes.
4. Define your eyelashes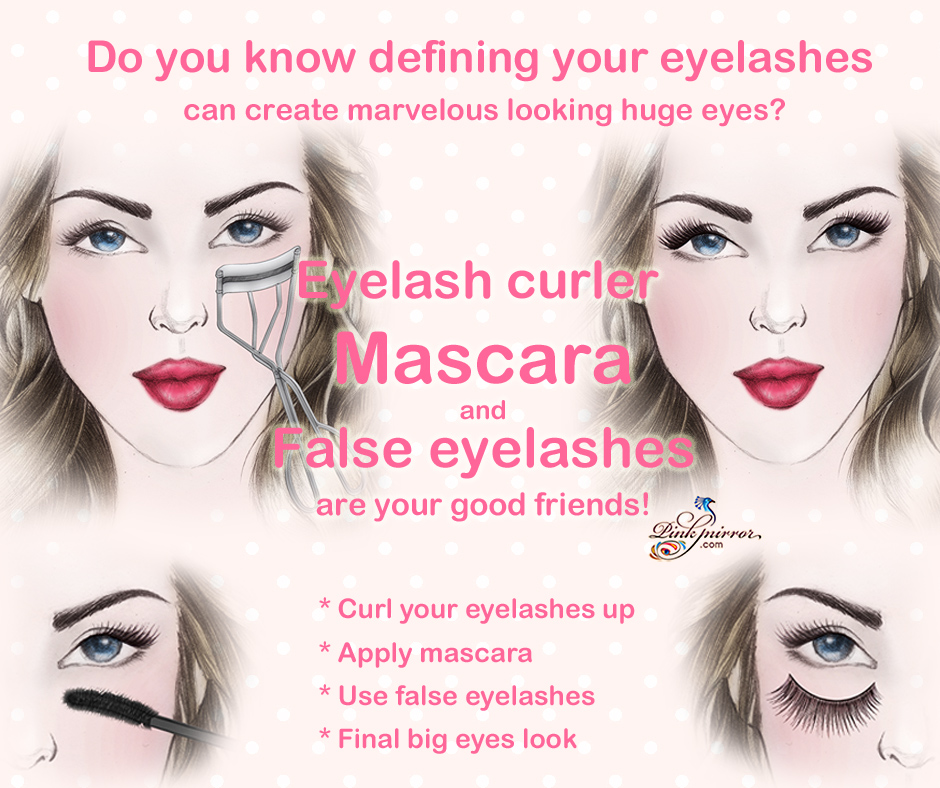 Curl them up
For those of you without naturally long curly eyelashes, eyelash curler is your savior! Never forget to spend extra 20 seconds to curl your lashes. Your eyes will immediately appear wider and more open. They should be curled twice, once at the root and another about 1/3 up the way.
Use mascara
Curling your eyelashes followed by mascara will create the illusion that your eyes are bigger. You should apply a lengthening formula along the upper and lower lashes to create wide, doe eyes. After that, brush a thickening coat over the top for even flirtier look. And then to really draw the eyes upward, add an additional swipe near the center of the upper lash line.
Use false eyelashes
False eyelashes can make your eyes look wider and add a dramatic flair to your eye makeup that mascara alone cannot provide. To apply them, you will need an eyelash adhesive hence make sure you get that too. Take a cluster, apply a tiny amount of the glue then leaving them to dry for about ten seconds. They should be tacky, not wet. Finally, apply a few clusters to the eye outer corner, only for your upper eyelids. Then enjoy your new marvelous looking huge eyes.
5. Define your eyelids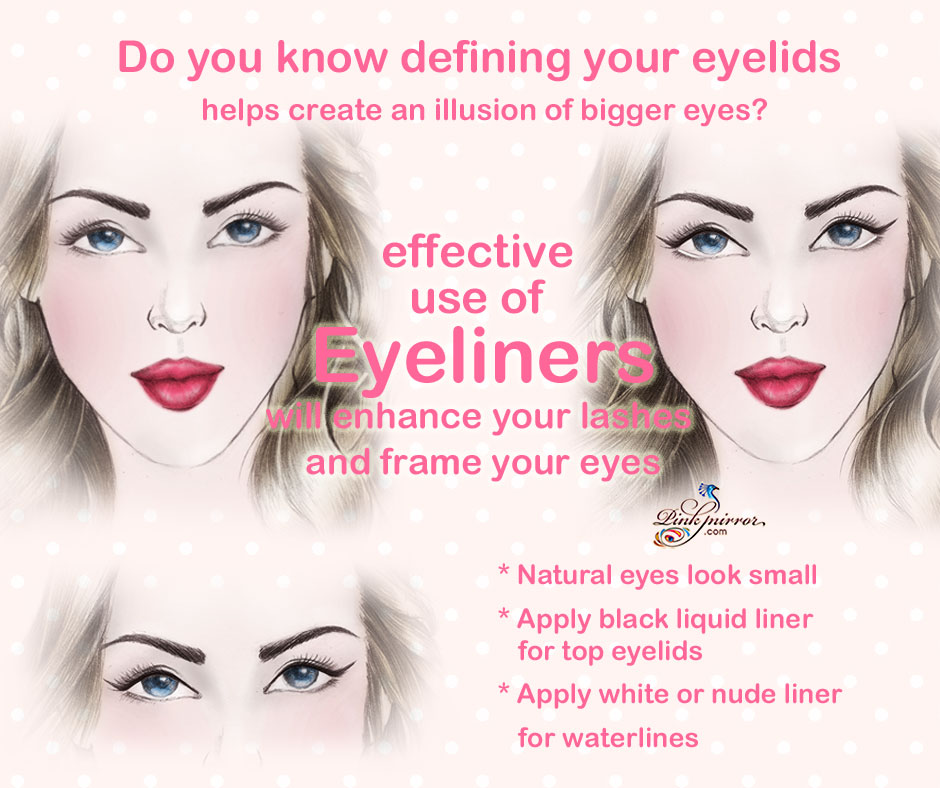 Top eyelids: black eyeliner
A strip of black liquid liner along the base of your upper lashes can help enhance your lashes and frame your eyes. Then extend the eyeliner beyond the outer corners of your eyes. This line should move upwards to pull the eye out a bit. This technique will make your eyes appear wider, but is it not easy to master it. If the eyeliner is not applied symmetrically, your eyes may look lopsided. Felt-tipped eyeliner is a very good option to get the job done. It not only deposits rich, inky color but also provides control and precision.
Lower lids: white or nude eyeliner
While black liner inside the lower eyelids will close your eyes, a brightening eutral shade will make you look wide-eyed and more awake. Theoretically, the white colored lower eyelids will blend with the white of the eye, creating a bigger look. You should put a light eyeshade in the inside ridge of the eye, right where the eyelids meet each other, close to the tear ducts. It will immediately create an illusion of brighter, whiter eyes.
Other Links:
How to use makeup to make your eyes look bigger.
How to make eyes look bigger.
Make your eyes look bigger with these 5 makeup tricks (Video).
The Trick to Making Your Eyes Look Bigger.
How to get bigger, brighter eyes in 4 easy steps.