The width of your face is mostly the same length as your face. Your jawline will also have a soft, round shape rather than pointy or angular edges. The round face shape is perfectly uniform with a petite look as typically seen in young children. Your cheekbones are the broadest feature of your facial structure, and you have full cheeks.
1. For Ladies
 1.1. Make-up
 1.2. Hair Style
 1.3. Glasses

2. For Gentlemen
 2.1. Hair Style
 2.2. Beard Style
 2.3. Glasses

For Ladies
If you have a round face shape, you know, you look like Selena Gomez or Ariel Winter or Thomasin McKenzie. A lovely round shape. Since the triangle face shape is considered most attractive for females, we will show you how to enhance the rest of your features with unique tips for your makeup, hairstyle, and glasses to help turn a round face into a triangle-shaped one.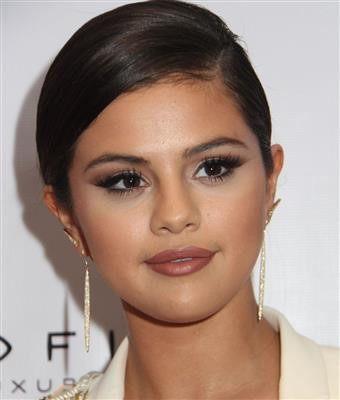 Make-up
Eyebrows:
When doing your eyebrows go for a darker colour and give your eyebrows a bit of an angle. This will not only draw attention to your eyes, but it will elongate the shape of your face.
Eye:
Go more for warm colours for your eye makeup. This will also draw attention away from the roundness of your face. Remember, wide and natural brows are best on a round face.
Cheeks:
For your cheeks, we want to make your face look thinner. To do this we are going to contour under your cheekbones with a bronzer. Add blush to your cheeks and under your cheekbones to make your face look longer.
Lips:
If you have full plump lips just leave it like it is. But if your lips are slightly thinner, draw them out a little more to make them look plump. The lip colour you wear should always compliment your skin tone.
Hair Style
The best hairstyle that matches your look are styles with subtle texture such as waves or loose curls. Wave styles will help flatter your round shape and make your face look longer. The best hair lengths to do this with are medium and long. You can also do short styles like a pixie cut to contrast the round shape of your face. Just make sure the cut has lots of textures.
For medium length, you could have loose waves with bangs that are swept to the side of the face.
You could also carry off a mid-neck piecey bob without any problems. As long as it has got lots of textures and the hair is styled in in loose waves with a semi side parting. Leave the bangs loose so they can be swept to the sides of your face; you would look super cute in that.
Another bob you could try is the side-swept bob with textured layers. This will draw more attention to your eyes and less focus on the roundness of your face.
The shag hairstyle is suitable for mid-neck to shoulder length hair. It has a slightly unkempt shaggy rock chic look about it. The layered gentle waves in the style gives the illusion of a slimmer face, and draws attention to your cheeks, lips and eyes.
When looking at long hairstyles, ombre or balayage waves in dark brown tones are a classy yet daring hair fashion statement to make. It shows people you have class, but also have a naughty side to you. This hairstyle will bring attention to your cheekbones.
You could also do a long wavy natural looking hairstyle with centre-parting and the hair falling gently on the sides. This minimises the roundness of your face shape, and draws attention to focal points in the middle; like your eyes, nose and lips.
Glasses
Due to your face shape being round, your cheekbones and jawline do not stand out as much. This means we need to get you shades which will make your face look a little wider. Nothing does that better than glasses with rectangle or square shaped frames. These will add definition to your face, give it the illusion of being longer and add some character as well.
For Gentlemen
Did you know you look like Jack Black? You have that unmistakable round face and even his cheeky smile. Not sure if you know this, but because of your type of face shape it can be a little harder to find the right type of hairstyle to suit you. This is because the widest part on your face are your cheekbones. Hence the style you get has to be right, so as not to make your face look wider or rounder than it is.
Hair Style
The best type of haircuts for you are short to medium length styles. We are going to have a look at what is out there to give you some ideas for when you next visit your barbers.
In order to avoid making your face look wider or rounder, hairstyles which have more volume on the top than on the sides are best. You can go for a faux hawk style or spiking the hair on the top with decent gel and getting a nice fade on the sides and back,. A fringe that can be swept to the side, as long as the side are not too short, would look fabulous as well. You could also get a style with a middle or even a side parting. Even a pompadour or a quiff style will give your face the illusion of looking a little longer. If you have Afro hair, you can add a little character to the top of your style with a little slant to it. This looks pretty cool on guys with round face shapes.
If your hair is medium length then you can even get away with a messy style you can play about with. If your hair is thinning and receding and you are thinking of going bald? Why not? This type of bravery to expose it all will most definitely distract people from focusing on the perfect roundness of your face. Rather they will be captivated by the shiny bulb staring back at them! I am being serious though, if you want to go bald go for it. Your round shape can still carry this style well.
Beard Style
When it comes to your beard, if you have a beard or thinking of growing it. A stubble is fine or you can have it longer than that with a nice shape up. Do not grow a bushy beard as this will add way too much roundness to your face. If you want to grow a goatee, that is cool as well. The one cut into a point is quite trendy these days and would go well with your face shape. This will add some length to your facial structure.
Glasses
When it comes to the sunglasses, you should go for frames that add some dimension or angles to your face. Some will even slim down the cheekbones giving your face a less rounded look. This means square frames or frames with soft angles will accomplish these goals. Whatever you do, do not go for round frames. They will make your face look too round.
Your makeover is complete! I hope this will help give you some ideas on how to work with what you have. Being round is not all that bad, in fact, it is not bad at all.